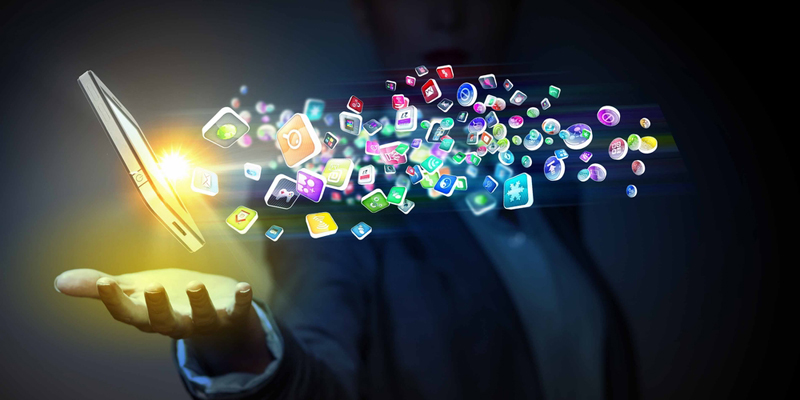 The latest consumer trends reflect people are using mobile devices more than ever before. There is a clear switch from desktops to mobile platforms due to ease of access with 'all apps in your pocket' convenience. Gartner Inc forecasts mobile phone sales to reach 2.1 billion units by 2019. Essentially, this means the world is converging on mobile devices and your business needs to keep pace with this digital shift. This just shows that when your company makes it's own custom software application, you need to take into consideration mobile-friendly options.
So, if you are a start-up, small company or a big enterprise, who would want to bring your product to customers, will primarily need a good mobile application. Mobile apps not only help you create new revenue streams but also improve business processes and employee productivity.
A good mobile app could take your business to the next higher level. But developing the right mobile app is a challenge which requires mobile software development experts. You have two choices here. You can go for in-house team of mobile software developers or outsource mobile software development company. If you are looking for a mentoring software for your business, you may want to check out something like Together App, a mentorship platform that looks to provide a seamless experience for employees.
In-House v/s Outsourcing Mobile Software Development Company
If you plan to have an in-house team for your business' digital transformation you would be either diverting your existing employees for this purpose or recruiting a new team. The mobile software development team could be of full time employees or mobile software developing experts on contract. Senior developers, however, would be expensive hires. This exercise would increase the cost to company in hiring new people, renting out space and meeting other incidental expenses.
If you outsource the development work to a mobile software development company then your employees can focus on other important aspects of business development and marketing. Outsourcing would achieve the desired result at a relatively less financial loss to company. 100offer gives you good advice on making the right decision for you and your company when it comes to choosing the right software developer.
This brings us to the question of how to find the best mobile software development company?
How to Choose the Best Mobile Software Development Company?
There is a huge pool of mobile software development companies in the world. You will need to wade through a multitude of names in the mobile software development universe. Zero in on the best fit for your organisation. But this is easier said than done.
Choosing a wrong mobile software developer partner could set you back in financial and business terms. Delays in project completion, postponements and flawed design and coding resulting in bugs later would be a serious blow to the business besides the loss of time and money spent. Therefore, it is imperative to choose the right partner for all your mobile software development needs. Let us get you some specific criteria that will ensure that your project is in right hands. Take a look!
Also read:
What is best about Mobile Agency App
Full Stack Growth Marketer, Udit Goenka Is All-Set To Monetize Your Startup Company
How to Use Digital Marketing for a Law Practice
Define Your Goals
First and foremost you need to clearly define your requirements from the software development project. Before you hire any mobile software development company chalk out your goals and expectations desired. Research similar products and apps to get a hang of what the software or the mobile application can do. Find out how best you can incorporate those features with your product or business model. This will help you communicate clearly with the hired mobile software development company about your goals and requirements.
Far shore or Local
The next step will be to shortlist the companies based on geographical area. Ask yourself – Will you be alright with far shore developer? Will it make more sense to locally outsource the mobile software development company? Answer to these will filter out many names. Find out the country of incorporation as this will be of prime importance in case if you hit ay legal hurdle. Geographical considerations are important. If you need to meet and monitor the project it will be cost effective to hire locally. Far shore project should not be hindered by the cultural gaps. Make sure the company you are going to hire fully understands your business goals and there are no language barriers. Sometimes due to the language barrier and cultural gap businesses hire local developers who offer good prices with great quality.
Portfolio and Experience
Take time to go through the portfolios of the mobile software development companies you would want to engage with. Every company has a portfolio. Their portfolio would give you a fair idea of the type of work they do and their experience. Variety of clients and exposure to different platforms is always an advantage. Also, the time mobile software development company has spent in the development work and the richness and variety of work undertaken by them will qualify them as experienced developers. Basis this you can further screen the potential developers you can hire.
Client Testimonials
Look for the testimonials and review ratings given by clients to these companies. Internet is a mine of information. Read reviews by independent research companies. This is a great indication of their commitment to customers. Raise a red flag if you come across delays, postponements and other specific issues mentioned in the reviews. Read the reviews to further narrow down your search for the right mobile software development company.
Call for Bids
Once you have arrived at a list of names of mobile software development companies based on above criteria, you can ask them to bid for the project. Before hiring call them over for an interview to communicate your goals. This will give you an opportunity to negotiate and discuss the nitty gritties of the project. Fix the hourly rate or go for the
Set Clear Goals and Milestones
Establish clear milestones and timeline of the project. Decide upon the connect meetings so that you can monitor the progress of the project. In case the developers go silent for a long period of time these connect meets will help you assess and approve the development builds over a period of time. This is also necessary to give the mobile software development company the feedback necessary to keep them on track and in line with your expectations of the project.
These basic criteria will help you get the right mobility partner for your business. The best mobile software development company will steer your company through design and development as well as support and refine the product post launch.
Choosing the best mobile software development company will let you leverage their expertise as they bring best mobile software development practices to the table. This could be the key to next big jump in your business's profits and success.