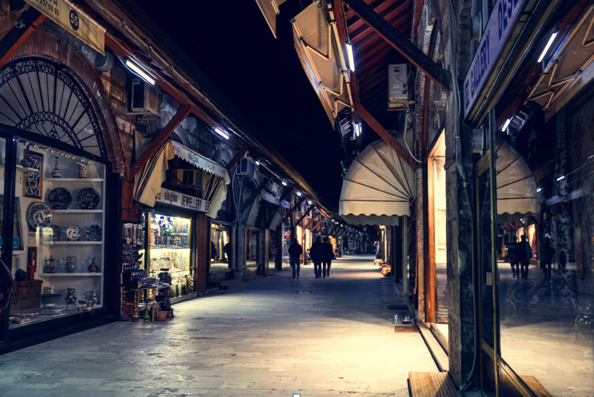 Ecommerce in 2017 is a mixture of people-led strategy and technological innovation. On the one hand, the industry is swept up by the latest and greatest tech; on the other hand, we're finding more human product stories to tell. Sales is about relationships and connections – forged by data and strategy. Here are seven of the most exciting ecom tech trends to look forward to in 2017 – make sure you factor these into your annual planning.
User-generated content reigns supreme
Stop wasting money on expensive in-house content creators – get your content production out of the lab and onto the streets.
In 2017, we're loving content that hasn't been censored, airbrushed, or manufactured. Content that is real and raw – and it comes straight from the customers themselves. For ecommerce purposes, UGC is gold – it's like having dozens of word of mouth recommendations for (almost) free.
In order to succeed at UGC, launch some clever campaigns with a clear purpose – getting people to tell their story, their way. Go out on social and email to capture as much data as you can. Visual campaigns centered on video or selfies perform well and allow you to curate a visual brand gallery of happy customers. Here are 10 content campaigns you can adapt to your own store.
Reviews are UGC 101 for ecommerce – make sure you've got a proper customer review acquisition strategy in place. Display honest, undoctored reviews throughout your store (on both product and landing pages).
The beauty of UGC is that it's a bit offbeat and quirky – its grainy and amateur quality appeals to the consumer who is sick and tired of photoshopped and manufactured content.
You can even make non-UGC content seem more genuine by using some of the same characteristics – but don't mislead the consumer about where the content is coming from.
Also read:
AR and VR change the game
Augmented and virtual reality are set to change the experience of ecommerce – bringing virtual customers closer than ever to products and brands.
The best use case for VR will allow people to virtually dress or furnish a room (or themselves), in order to 'try things out'.
At the minute, this technology is still the remit of big brands like IKEA, but one day VR will become normalized as an integral part of the purchase journey.
Ecommerce merchants should learn how to mimic the fully immersive and totalized experience of VR – selling products is increasingly about selling a way of life. Don't just focus on getting a sale and getting more people through the door – work on creating a total brand culture.
Logistical dreams
Amazon has desperately been trying to carve out a seamless delivery experience: 24/7 lockups, drone delivery, Prime membership – all designed to make buying online as frictionless as possible.
With logistical improvements like these, comes a more sophisticated customer experience.
Tighten your own logistics so that they match up with demanding consumer expectations – if you make it difficult to buy from you, people won't do it.
Logistical refinement often relies on infrastructure, so smaller merchants might miss out to bigger players. If you can't offer all the delivery options under the sun – focus on what you can do best instead. Send customers personalized thank you notes, team up with local companies for extra perks, or offer a VIP loyalty scheme. Make receiving a package from you into a totally awesome experience – that will keep people coming back, even if they can't get next-day delivery in their city.
If you can't beat them…join them. Diversify your inventory management and sell on marketplaces as a seller to up your ecommerce income.
Day of the DIY hero
Hosted ecommerce platforms like Shopify are growing their market share as more and more ecommerce newbies take the plunge. What does this mean for the industry? (It could mean that your day to rule at ecommerce has finally arrived..).
A lower barrier to entry means more diversity, but it also means that competition is at an all-time high. (Technology has hugely equalizing potential, but it can also mean that as big players spend more and more on expensive technology, sole traders become hopelessly outclassed).
Ecommerce is now a legitimate side hustle – dropshipping and sophisticated ecommerce templates have made designing, setting up, and running a store easier than ever before. Consequently, less time is being spent on technicalities – with more time being devoted to social media and brand building activities.
Growth isn't just about physical space and people anymore – automation, software, and outsourcing has led to the rise of the ecommerce growth hacker who uses all means available to scale and grow. Not sure where to start? Check out these simple ecommerce growth hacks.
Programmatic bidding
Organic traffic is still an ecommerce mainstay, but bidding for ads is becoming more algorithmic.
Programmatic ad buying is replacing traditional people-led advertising with more sophisticated and data-led systems.
Embrace targeted and personalized advertising – but don't forget that the fundamental success metric for an advert will be what another person actually thinks of it. Don't let the system blind you – make sure that you invest plenty of time into crafting great ads.
Online advertising is very ROI-led, so keep a handle on how much you're spending. Don't overspend in a desperate bid to up sales – it can become a dangerous route to go down.
Piecing the fragmented journey together
This shopping fantasy hasn't quite happened yet– customers come in store to a readymade shopping cart, pre-populated by products they've selected on their smart home device. But we're not that far off during the days of checkout-free Amazon Go stores…
What does this mean for ecommerce merchants?
An increasingly targeted and focused approach to customer experience and user journey is the only way to compete in this new ecommerce landscape. You have to offer the consumer convenience and time saved – not just a selection of products.
Investing all your money into product development? Stop, and invest some into experience development instead. People buy with their emotions, not their brains. They want to feel connected to your brand before they make a purchase.
Learn how to provide a better and more coherent user experience. Here are five ways you can improve your UX today – keep refining and tweaking your store's UX based on customer feedback and sales data.
Conversational commerce
Using chatbots to help customers & messenger marketing are the two core pillars of conversational commerce.
Though the term may sound scary and intimidating – conversational commerce is really just a natural progression of how people and brands interact. It's more about conversations, fleeting moments, and integration with everyday life, than big shopping 'events'.
Buying products, making purchases, and talking to brands is increasingly instantaneous and similar to activities like email browsing.
Installing live chat software on your site will help you manage customer queries – but don't give over your entire customer service strategy into the hands of bots. Learn how to use conversational commerce as an addition to, not replacement of, real customer interactions.
Embrace the conversational tone in your customer communications and don't get left on the shelf as a stuffy and 'past it' brand.
If you're interested in learning more about online payment processing for your eCommerce store FastSpring can help your business develop. My friend tells me they have excellent customer service and he could not recommend them more.
Ecommerce in 2017 is in for a turbulent time! Hold on for the ride. What 2017 trend are you most excited about?